November 28 @ 4:00 pm

-

11:00 pm

AEDT
Ninth Birthday Newcomers Feast
After a year of hibernation, during which a Plague has struck the world, the Canton of Lightwood is returning to life and activity with a Newcomers Feast to celebrate our ninth birthday on Saturday 28 November at the Franklin Palais in Franklin, from 4pm until around 9 or 10.
Whether you're a complete newbie or an old hand at medieval re-enactment, you are welcome to come along and join in the fun!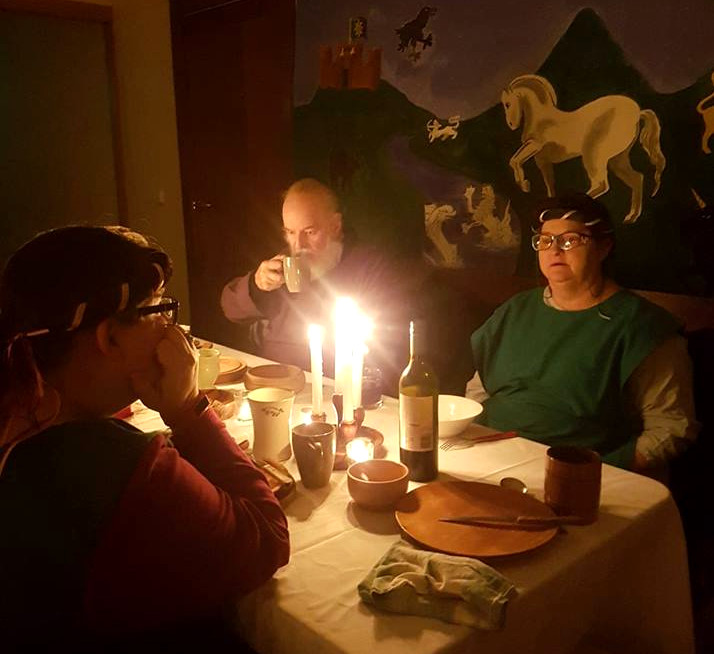 The prices are deliberately low, because we know times are lean.  For $12 per adult or $6 per child under 18, you can share the company and camaraderie of the Canton in a properly socially distanced way.  This will necessarily be a bit different from our pre-Plague events, but we think it will still work out.  Here's what you need to know.
Bring A Dish… But Not To Share
Usually, our feasts are what we call "pot luck": everyone brings some food, and we share and enjoy.  The Plague means the bringing is still possible, and we hope the enjoying will remain, but the sharing is not possible.  Bring a dish and eat it with your household, bubble or pod — whatever you want to call it.  Sadly, even if it's really delicious, you can't share it outside that group.  When the Plague has passed we will fix that, but for now it's every family for themselves!
Traditionally, we always bring our own "feasting gear" as well: plates, bowls, cups, knives, spoons, forks if you like.  We can't offer dishwashing facilities due to the hygiene rules, so bring spares!
But what's that? You don't know what to cook that's suitable? Oh, that's easy: we've been doing this for fifty-odd years now, all over the world.  We have recipes!  Check them out.
Wear Medieval Clothing
The oldest rule of the SCA, of which the Canton is part, is that participants must make "a reasonable attempt at pre-17th century clothing".  That means medieval or renaissance, from anywhere in the world (though not nations where they didn't wear clothes — that would be cheating!)  Not sure what that means?  No worries!  Follow this link for advice on how to put something together.  You can do it — we all have, and believe me when I say we're not all wizards at the sewing machine!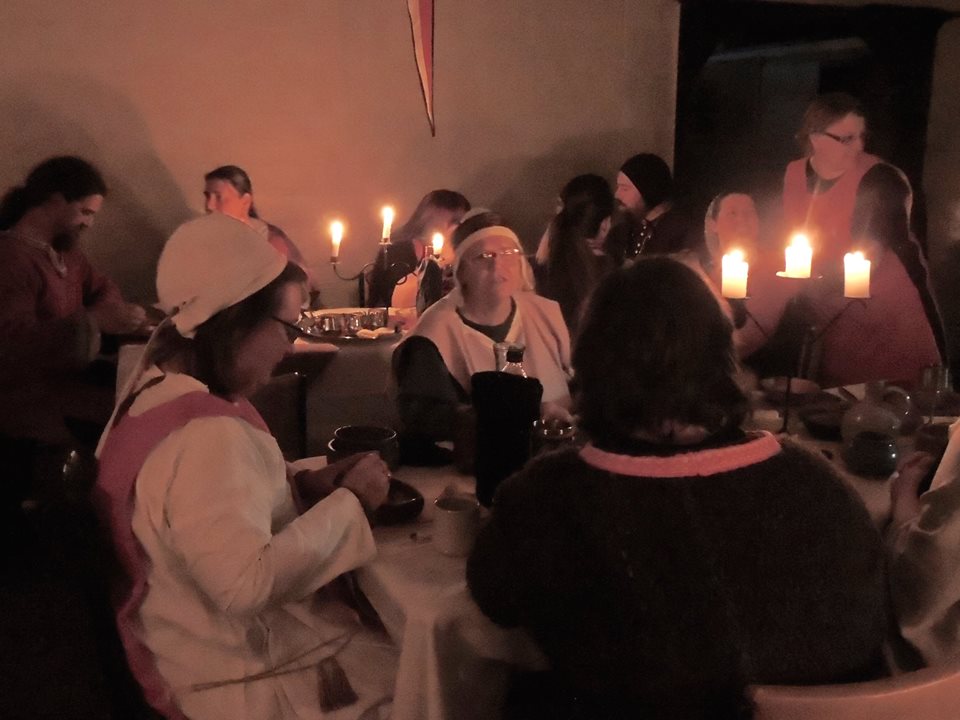 Leave The World Behind
Hey, have you heard what the Prime Minister said last night? How about that Presidential result, eh? And did you catch that new Netflix series?  Nope! While we're in garb and enjoying a feast, we get to throw all that away.  For the time we're at a feast, we are free of the mundane world.  And isn't that a blessed relief?  Enjoy it!  Don't worry – it will still be there when you return home.
Bookings
Under the official COVID rules, we can't handle any cash money. That means all payment has to be made online.  To book (remember: $12 adults, $6 minors) email the Steward, Baron Karl (Paul Sleigh) at info@lightwood.lochac.sca or text 0407 468 244 for bank details.
For up-to-date information, if you're on Facebook you can follow the Facebook event here.
Come along and enjoy some out-of-this-century fun.  We'll try to keep you entertained, and with any luck you'll love it like we do. See you there!