November 7, 2020 @ 4:00 pm

-

10:30 pm

AEDT
Oh, where oh where has live music gone?
The COVID took it away from me…
The Franklin Palais is bringing it back with a Day Festival Fundraiser to support the local musicians.
We know that COVID has been devastating for the arts sector and live performances, so this fundraiser is to support our local musicians.
Entertainers went months without gigs during lockdown and now face an uncertain summer, especially without festivals.
Entertainment venues during lockdown were closed, which meant significant revenue loss and sadly closed doors. By attending you'll also be supporting the Franklin Palais Theatre, which is managed and maintained by volunteers, along with the support of the wonderful Huon Valley Community
Join us in gorgeous Franklin! Enjoy a spring evening by the riverside, bring your friends (and make some new ones) to support and celebrate some of our incredible local musicians and visit the iconic Palais Theatre. Take home a CD or a teatowel.
The bar will be open for all your Franks Cider, wine and beer needs. Hot food, warm and cold refreshments will be available.
Alternatively, you could pack a picnic and share with friends by the river.
Franklin also has fantastic local Cafes and Restaurants within walking distance to dine in or take away…
FEAT:
Steve and Marjorie Gadd
Bruce Young & the Pearl Handled Pistols
Tash Zappala
Daniel Rawlins
Ville Karvonen
Teresa Dixon
Jed Appleton
Hall & Balcony seating – COVID spacing.
Name & contact details will be recorded upon entry.
Tickets $10
Kids under 13 ticket FREE
VIA EVENTBRITE.
PASS OUTS AVAILABLE AND ENCOURAGED  you will receive a stamp at the door.
If you would like more info or would prefer to purchase ticket in cash/bank transfer please email
bookings@franklinpalais.com.au
or call/text 0455 568 965.
Max ticket sales of 150 due to COVID limits.
There will be limited to no door sales if tickets sell out prior.
Please let me know if you would like to be on the door list and pay on the day
Steve & Marjorie:
Franklin locals Marjorie and Steve Gadd are known nationally as musicians, publishers, music teachers and folklorists. Their repertoire span, folk, classical, jazz, ragtime, blues and gypsy music. So one should be ready for anything from this duo of multi-instrumentalists
Bruce Young and the Pearl Handled Pistols
Bruce Young and the Pearl Handled Pistols (Adam Davies). Locals, direct from Franklin Tasmania. Been song writing and performing in Mainland Australia, New Zealand, Japan and Fiji.
Songs of love, songs with stories, songs with tears and some country! Soul, blues and Rock.
https://www.youtube.com/watch?v=8HTMLhSvZco…
Tash Zappala:
The tremolo-steeped folk of singer-songwriter Tasha Zappala winds through a heavy fog of ill-luck and reverie.  Rambles of street corner solstices, mystic palms and bad dreams carry the listener into a hushed eve where the moon is full and the crooning is sweet.
Zappala's wandering melodies have floated through attics and trains, caravans and stages across Australia, Europe and the UK.  The textured sound of her post-folk blues is a layered with looping vocal harmonies, meandering guitar melodies, tambourine and percussion. When not touring Zappala spends her time in the woods of Tasmania, making billycans of beans, drinking tea and capturing field recordings.  Her latest album, released July 2020, features a spectrum of native soundscapes, conversation and roadside-penned serenades.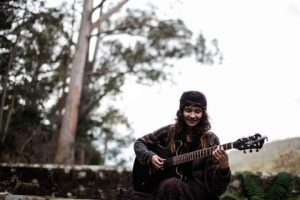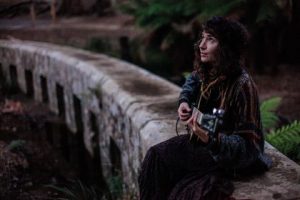 Teresa Dixon:
Teresa Dixon sings songs of visceral sadness, careful optimism and the things we do to pull ourselves together, get up, and get on with it. She is a multi-instrumentalist whose musical style has been shaped by alt country and folk traditions.
Jed Appleton:
The young, rising star of the nu-folk revolution has been hard at his craft for years, fascinating crowds mixing a unique blend of dynamic rhythmic stylings on the parlour acoustic alongside smooth but powerful textures from his raw vocals accompanied by strong lyrical sense far beyond his years. The minstrel has captured the ears of many, from street corners to sold out venues all across the world supporting the likes of Passenger, Matt Corby, The Cat Empire & Stu Larsen, since leaving school at the age of 16.
Jed's tunes start off like many other folk songs, but once they get going tend to give you a big old punch in the heart-strings. For Jed, it really is all about the music and his deep passion, actualized by his simplistic yet authentic approach is both impressive and rare.
Since 2012, Jed created 4 independent records and toured the UK/EU/IRE/AUS circuit many times over, then wiped the records from any online presence and recorded his self-titled album in 2016 with Chris Vallejo in Sydney, with albums no.6 & no.7 already written and recorded.
With no label, management or booking agents, Jed has managed to build a solid career whether it be in the recording studio, performing, writing, session work for numerous bands on multiple instruments, whilst running a self-managed and funded solo venture.
Daniel Rawlins:
After playing in multiple bands over 10 years in Melbourne, Dan Rawlins made the tree change to Franklin and turned his attention to solo singer song writing. Inspired by the endless local beauty, Dan weaves stories of travel, building a home, killing a bandicoot and panic buying covid chickens with a foot stomp and an acoustic guitar. Now 2 years later he his ready to play his debut solo show and excited to support such an important building for the local Franklin community.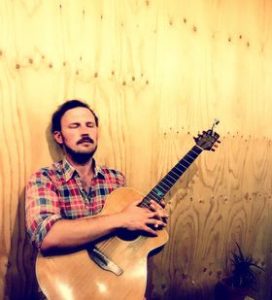 Ville Karvonen:
I think everyone should know that we write these bios ourselves. I can honestly say that I like my songs enough to want to share them with you. I write songs when I feel strongly enough about something to sing out in the hope that someone will connect with my anti-establishmentarianism. Sometimes I write songs about nice things too.
Have a listen:
https://elusivemoose.bandcamp.com/album/random-thoughts-of-a-restless-mind